Event Details
The Colorado State Pupil Transportation Association (CSPTA) is excited to announce the annual summer workshop being held this year at Cherry Creek School District. It will be another jam-packed week of learning and networking. The schedule is as follows:
Monday, June 11

Summit Pre-Conference: APEX Training

National Active Shooter & Crisis Prevention Training Techniques

8-Hour Certified Training (Certificate Provided)

Class Limit (300)

Registration: 6:30 to 7:45 a.m.

Start Time: 7:45 a.m.

Arapahoe County Fairgrounds
25690 E. Quincy Avenue
Aurora, CO 80016

Technician Classes

Cherry Creek Transportation Department
25001 E. Belleview Ave.
Aurora, CO 80016

Tuesday, June 12

Technicians Competition, Roadeo Competition, Colorado's Best Trainer Competition & Car Show

Cherokee Trails High School
25901 E. Arapahoe Rd.
Aurora, CO 80016

CSPTA Awards Banquet

Arapahoe County Fairgrounds
25690 E. Quincy Avenue
Aurora, CO 80016

5:30 to 6 p.m.: Social & Networking

6 p.m.: Dinner & Program

Wednesday & Thursday, June 13-14

Transportation Summit Classes

Cherokee Trails High School
25901 E. Arapahoe Rd.
Aurora, CO 80016

2018 Vendor Show

4 to 7 p.m.

Arapahoe County Fairgrounds (East Wing)
NOTE: Early Bird registration ends May 18 (end of day). After that, full-conference increases to $240.
NOTE: As of June 4, we will not be able to refund any fees, but you can transfer them to another individual.
Please complete this online request if you are interested in instructing for the 2018 Transportation Summit. We will be vetting all instructors based on active participation in committee, feedback from previous presentations, supervisor/director feedback and permission.

Instructors will receive a complementary ticket to all sessions and events. Deadline: Monday, April 30
Thank you again for your dedication and patience to assure we have a fair and consistent selection process.

ApexSCF is a team of highly-trained vetted public safety professionals with over 400 + years of experience. Published experts and recognized by various state, county, and federal entities as certified specialists. ApexSCF instructors are qualified and trained in fields ranging from Mental Health, Law Enforcement Officers, SWAT Team members, Tactical Responses to school violence Officers, Crisis Negotiations Officers, Police Academy Instructors, Fire, Emergency Medical Services, Government Security Officers, adult and child education, and directors of student transportation.
We have successfully correlated their practical experiences into a comprehensive training program for professionals to implement into your daily situations. ALL INSTRUCTORS have undergone extensive training and are vetted to ensure they are the most qualified personnel to instruct your agency.
ApexSCF will provide bus drivers, administrators and bus attendants a tailored/personalized interactive educational training that effectively addresses today's threats of violence, workplace violence, and active shooters on or off the bus. Your will learn personal protection, active shooter on the motor coach/school bus, workplace violence safety, crisis management, and emergency preparedness. This will surely be "A Very Unique, Interactive and Hands-On Training Experience".
See more information about this training online here. For more information, visit apexscf.com.
Class Schedules:
Course Descriptions
Theory & Behind the Wheel: CDE will be presenting the "FT-1" Federal Training 1, to give you an overview on the Federal Drug and Alcohol Clearinghouse and Entry Level CDL Training Regulations that go into effect in February 2020. This class is designed to provide districts greater detail of the requirements for facilities, trainers, curriculum etc. It will give you the knowledge needed to begin the discussion with your district administration to determine how your district will implement these new regulations.

Transportation Development (TD) Courses (Formerly DT) & Transporting Students with Disabilities (TSD):
The 100-400 series have changed to Transportation Development (TD). You may ask why the name change? The CSPTA Board along with several committees input felt Transportation Development was more encompassing to all attendees verses Driver Trainer. Regardless of your position of title this is all needed and valuable information. Special Needs has gone back to "TSD" Transporting Students with Disabilities. The TD 1-4 sessions and TSD 1-3 have been altered as portions of these trainings are included in the Federal Trainer (FT) so we have eliminated redundancy. All classes require registration and are limited to 30 (unless otherwise noted). See a full list of TD & DST courses online here.
This year we are not having a "HOST" hotel, but the following is a local hotel nearest to the events.
Fairfield Inn & Suites
24192 E. Prospect Avenue
Aurora, CO 80016
303-928-7500
More information coming soon!
Have questions about courses or need help logging into your account? Contact cspta@msn.com
Please note: There is not a phone number available to call CSPTA, as we are a volunteer organization. If you can please email us a member of the organization will return your call within 24 hours. Thank you.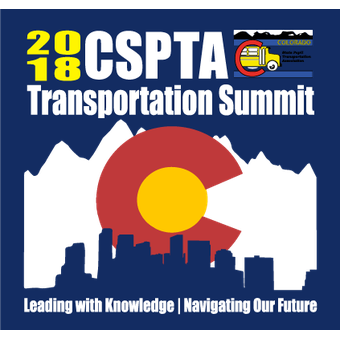 25690 E Quincy Ave, Aurora, CO 80016