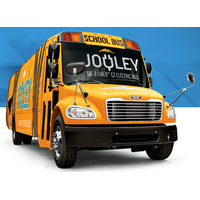 Thomas Built Buses debuted the Saf-T-Liner C2 Electric school bus, referred to as Jouley, at a NAPT press conference on Nov. 4, 2017. Jouley is the first generation of Thomas Built's electric series production school bus.
In addition to the same vehicle performance, safety and comfort as the Saf-T-Liner C2, this new electric school bus has quiet operation and produces zero emissions and even exportable power. In this capacity, students riding the school bus will be able to charge their computers and other devices directly from the bus.
"Jouley is named after the joule unit of energy," said Caley Edgerly, president and CEO of Thomas Built Buses. "A joule is equivalent to the amount of energy that is dissipated as heat when an electric current of one ampere passes through a resistance of one ohm for one second. So we are having fun with Jouley."
Learn more about this new electric bus online here. Or see the flier from Transwest below.
---