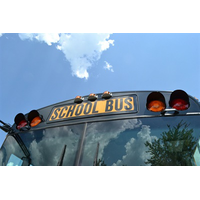 Sen. Don Coram introduced SB20-052, also known as "The Smart School Bus Safety Pilot Program," on Jan. 8. The bill would create a program, overseen by the state Department of Public Safety and a program administrator, to increase school bus safety and security for students by implementing a new pilot program.
Under the program, the bill states that the Department of Public Safety would award three-year grants to participating school districts for radio equipment and silent alarms, as well as funding for training, installation, and maintenance costs for the equipment.
SB20-052 is currently scheduled for a hearing with the Senate Finance committee on Feb. 11, according to the General Assembly's website. The bill is reportedly part of a larger effort to increase safety in Colorado's schools, with the state spending $75 million over the past two years, according to CBS4.
Learn more on this online here: https://www.schoolbusfleet.com/news/737322/colorado-bill-would-establish-school-bus-safety-pilot-program?utm_source=email&utm_medium=enewsletter&utm_campaign=20200211-NL-SBF-Newsline-BOBCD200205007&omdt=NL-SBF-Newsline&omid=1126293993&oly_enc_id=5667D5030534J5J.
---