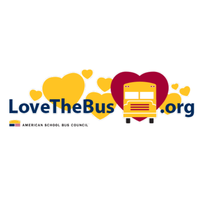 American School Bus Council Celebrates the Essential Workers Who Keep Education Rolling During National Love the Bus Month
Austin, Texas – As COVID-19 has drastically changed the landscape of schools and student transportation across the country, the American School Bus Council is bringing the industry together virtually to celebrate Love the Bus Month. A new online video campaign entitled "Big Yellow Valentine," will help to educate parents, school officials, lawmakers, and the public about the essential role the yellow school bus continues to play in the lives of children every school day.

"Each school day, millions of children depend on the yellow bus to get safely to and from school. While the school bus, the safest way to get to school, is often deemed the hero by school children, it's those behind the scenes – the drivers, , technicians, and bus attendants – who are the unsung heroes," said Charlie Hood, Executive Director of the National Association of State Directors of Public Transportation Services. "This year we wanted to take a different approach and produce a commemorative video to celebrate all those who keep education rolling. This past year has been difficult for all, so we wanted to take this time to show our appreciation for these essential personnel."
The video can be viewed online on the American School Bus Council's Facebook and YouTube pages and the member associations' websites starting in mid-February. It will also be on ASBC's Love the Bus website later this month.
Love the Bus began in 2007 and is held every February. It is a month-long celebration of the importance of the yellow school bus, with a particular focus on thanking school bus drivers for safely transporting 25 million children to and from school every day. Love the Bus events are typically held at schools, school bus facilities, and other locations across the country. The events raise awareness and appreciation for the experience of riding the bus to and from school, and recognize the diverse set of individuals whose daily efforts make the yellow school bus part of the fabric of American life.
While many school districts are not able to celebrate Love the Bus in a traditional sense this year, the ASBC encourages all schools who are recognizing drivers and other essential workers in their districts to share their stories, videos, and photos on ASBC's Facebook and Twitter pages. Also, be sure to use #LovetheBus2021 so everyone can see what you're doing to celebrate.
# # #
About ASBC
ASBC is a coalition of public and private transportation providers, school bus manufacturers and state officials responsible for pupil transportation. The Council's members include NAPT (National Association for Pupil Transportation), NASDPTS (National Association of State Directors of Pupil Transportation Services), NSTA (National School Transportation Association), Blue Bird Corporation of Fort Valley, Georgia, IC Corporation of Lisle, Illinois, and Thomas Built Buses of High Point, North Carolina.
Since 2007, American School Bus Council (ASBC) has celebrated the school bus' influence on learning through stories that span the nation. Each February, we invite students, schools, and educators to highlight the important role of the yellow school bus in their communities and show appreciation for the school bus drivers who safely transport more than 25 million children to and from school every day. By sharing your stories, you can help promote the benefits of the school bus on a national level.
---