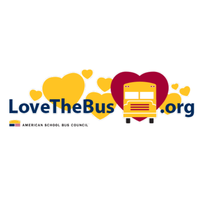 January 28, 2019
SUBJECT: ASBC Announces 2019 Love the Bus Event and Resources
Good Morning, NASDPTS Members,
This year the American School Bus Council will launch its annual February "Love The Bus" campaign with an assembly at the Fred Rogers Magnet Academy in East Aurora, Illinois. Several activities are planned at the school starting at 9:30 a.m. on February 8, 2019.
East Aurora School District 131 began regular daily yellow school bus service for the first time in August 2017. The School Board approved traditional bus transportation for roughly 3,000 students who live more than 1.5 miles from school in April 2017. This action by the school district exemplifies the importance of access to education and the important role that yellow school buses and drivers play in ensuring that students from all backgrounds have equitable opportunities to attend public school programs.
The 2019 Love The Bus program will start at 9:30 a.m. at Fred Rogers Magnet Academy. Pastor A.L. Reeves, who presented at last year's National School Transportation Association conference, will speak to the assembly. ASBC will provide Love The Bus T-Shirts to the 400 third through eighth graders at the school. ASBC also plans to recognize the 127 district bus drivers by supplying them with a tumbler labeled, "Thank You for Driving Students to Success."
ASBC will video the event and conduct interviews with district officials, bus drivers and students for use in Love The Bus and other ASBC promotions.
ASBC is also encouraging school districts and contractors throughout the country to hold local events in February highlighting the importance of school buses and the professionals who drive them. The ASBC article here provides links to ideas, activities, and resources to help launch and conduct local activities. The article announces a contest again this year with cash value prizes for posts on social media about local Love the Bus activities that share stories, photos, and videos. The article also provides the link to the Love the Bus website where you can find certificates, cards, coloring sheets, and other resources to assist students and others in recognizing school bus drivers.
Launched in 2007, Love The Bus is a month-long celebration held every February. The event celebrates the importance and role of the yellow school bus in education, with a particular focus on thanking school bus drivers for safely transporting more than 25 million children to and from school every day. Love The Bus events are held at schools, school bus facilities, and other locations across the country. The events raise awareness and appreciation for the experience of riding the bus to and from school, and they recognize the diverse group of professionals whose daily efforts make the yellow school bus part of the fabric of American life.
---