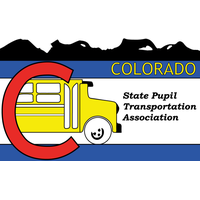 Meet the New Executive Board Members
We are delighted to announce the new appointments to the executive board members to CSPTA. The Executive Board of CSPTA is comprised of individuals from across Colorado who work within school districts in various capacities. It is the boards responsibility to promote and maintain the highest level of safe and efficient transportation for the pupils of the public and private schools in Colorado. We welcome you!
Meet your newest CSPTA E-Board members:
President-Elect – Albert Samora, Boulder Valley Schools

Secretary – Renee Hughes, Adams 12

District 1 – Kim Noffsinger, Englewood Schools

District 3 – Gary Vavra, Aspen School District

District 5 – Dave Hartzell, Harrison School District

District 7 – Charles Langlois, Mapleton Public Schools

Vendor Rep – Tim Mickey, McCandless International

At Large – Valerie Pelc, Jeffco Public Schools
Thank you to all our members who submitted nominations and nominees who ran for a position. Be sure to check out the new cspta.org! Login to your account and update your profile, and stay updated with the latest CSPTA news!
---