Join CSPTA for refreshers on Best Practices in Special Education Transportation and Adaptive Equipment. Topics include purchasing and industry updates.
Equipment failure or user error
Accessing equipment options
Evacuations
How to take it back and implement
Q & A
Resources
Moderators Becca Sykes and special guest Aaron Harris (BESI).
Questions? Email Theresa Anderson at thanders@comcast.net.
---
Location:
Daniels Fund Offices
101 Monroe St., Denver 80206
Free guest parking is available in their lot that is located at 1st Avenue and Madison Street. Please DO NO park on residential streets in the neighborhood.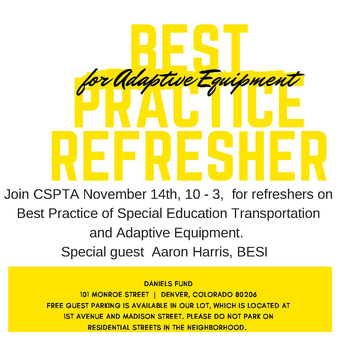 101 Monroe St, Denver, CO 80206, USA