Event Details
DEADLINE to Register: May 28th
Onsite/Late Registration
Participants may register onsite on the day of the competition at a higher rate.
NOTE: The cost the day of the event will be $85 single/$170 team/$55 monitors and Trainers, payable in cash or check only made payable only to CSPTA. Final payment due June 5.
Monitors and trainers will be instructed the day of competition where your events are being held.
---
Schedule·
· 6:30 a.m. – Sign in/Registration
· 6:45 a.m. to 7:15 a.m. – onsite written test for same day registrants
· 7:15 a.m. to 7:45 a.m.– Q&A before Road-eo
· 8:00 a.m. – Competition starts
· 3 p.m. – Competition ends
· 5 p.m. – Social hour
· 6 p.m. – Awards banquet
---
Awards Banquet
Location: Occhiato Center Ballroom | CSU Pueblo

The event is free for contestants and all judges/volunteers.

All other guests must purchase a ticket to the banquet below.
---
Payments/Cancellations:
Please mail your check to:
Colorado State Pupil Transportation Association
4101 S. Bannock St.
Englewood, CO 80110
Cancellations after the May 28th deadline will be transferable, but not refundable. T-shirts are only guaranteed to the contestants meeting the May 28th deadline. Participant forms and waivers available on this page soon.
---
Other Required Documents:
Please send a current copy of the Driver's license, DOT and MVR, plus current First Aid certification for both driver and para to:
Josy Campbell
jcampbell@hsd2.org
Or mail to:
Harrison School District 2
Attn: Josy Campbell
3555 Drennan Rd.
Colorado Springs, CO 80910
All buses will be 2017 -2020 Thomas C2 Saf-T-Liner.
Special Education
Length: 40'
Width: 7'11"
Wheelbase: 23' 5"
Capacity: 71
Special Needs Roadeo Competition may include the following:
(25) Test Questions relating to transporting students with disabilities and additional Federal Regulations
Emergency Evacuation Events
Load and Secure Events
School Bus Pre-Trip Inspection
Road-eo Skills Course Competition
All buses will be 2017-2020 Thomas C2 Saf-T-Liner
Regular Education
Length: 40'
Width: 7'11"
Wheelbase: 23' 5"
Capacity: 71
The conventional division Roadeo competition will include the following events:
Written Test
Pre-Trip (Find the designated defects – timed event)
Skills Course (May Include: Alley Dock, Off-Set Alley, Diminishing Clearance, Stop Line in Front or Rear, Student Stops, Railroad Crossing, Serpentine forward or backward, Parallel Park either side, any other event designated by the course planners)
Study Guide

STUDY GUIDE REFERENCE MANUALS
(50) QUESTION WRITTEN TEST

CDL Manual
CDE Regulations
FMVSS
Colorado Driving Handbook
First aid/CPR
Outline for the Monitor's Competition
Written test
Load and secure
Equipment installation
Monitor competition bus

This will encompass several different events
Study Requirements
IDEA – Individualized Disabilities Education Act
FAPE – Free Appropriate Public Education
LRE – Least Restricted Environment
ADA – American's with Disabilities Act
504 Plan – Section 504 of the Rehabilitation Act
The trainer's competition will look different this year. Outline for Trainer's competition:
Written test – fill in the blank
Presentation – TBD
Pre-trip – find 10 defects in 5 minutes
3 driving events

The driving events will happen after all Gen Ed and Sped teams have gone through
Study Requirements
CDE Regulations
First Aid/CPR
CDL Manual
Clearing house
FMVSS
Colorado Driving Handbook
Transporting Students with Disabilities Manual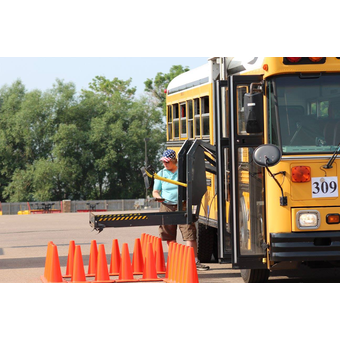 Colorado State University-Pueblo, 2200 Bonforte Blvd, Pueblo, CO 81001, USA