Event Details
The Colorado State Pupil Transportation Association (CSPTA) is excited to announce the return of this year's summer workshop at Adams 12 Five Star Schools. It will be another jam-packed week of learning and networking. The schedule is as follows:
June 19 - Pre-Conference/Tech Contest
June 20 - Roadeo/Tech Contest, Pre-conference, Awards Banquet and Opening Ceremony

Awards Banquet

Adams County Fairground - Round Building
9755 Henderson Rd, Brighton, CO 80601
Doors open at 5 p.m., Banquet: 5:30 to 9 p.m.

June 21 - Workshop Summit, Vendor Show
June 22 - Workshop Summit & EMS Event
June 23 - Summit Concludes
NOTE: Early Bird registration ends May 15 (end of day). After that, full-conference increases to $225, and single day increases to $95.
CSPTA looks forward to this opportunity to bring you Workshop favorites, exciting new sessions, and keynote speakers. DT and TDS sessions along with technicians and much more will be highlighted.
Registration will open by mid April, so check back soon. Information will also be sent out via email to all current CSPTA members.
The Roadeo & Technicians Safety Contest will take place at Adams 12, so all events will again be in one location, housed in a building with air-conditioning overlooking the beautiful Rocky Mountains.
CSPTA looks forward to this opportunity to bring you workshop favorites, exciting new sessions, and keynote speakers. Driver trainer sessions, Blockbuster sessions, along with technician training will be highlighted at this year's event.
Don't wait, register now as size-limited classes fill quickly!
Thank You for Supporting Pupil Transportation. We'll see you at the Summit!
NOTE: As of June 15, we will not be able to refund any fees, but you can transfer them to another individual.
More speaker info and bios coming soon!
---
Former NFL Player Karl Mecklenburg

Keynote speaker Karl Mecklenburg will be joining CSPTA at the Summit. As a former NFL team captain, and current professional speaker, Karl Mecklenburg understands what it takes for a team to work together for the good of all. Karl will be delivering a message on teamwork, courage, dedication, and goal setting.
As an NFL speaker, Karl will tell football stories of perseverance and leadership, along with family stories that are every bit as motivational.
His message of universal, unchanging keys to success are sure to inspire the best qualities in your team members.
---
Peggy Burns


Peggy is owner and President of Education Compliance Group, Inc. and former counsel at Adams 12 Five Star Schools.
Peggy has become a renowned speaker and expert witness on transportation legal matters and has created an educational training series that is accessed by organizations across the country.
Peggy will be offering insight into transporting students with special needs, implementation of successful practices, federal and state compliance, and training programs which provide access to education for our special riders.
Join us at the 2017 Summit for this, and other exciting training opportunities.
---
Charlie Hood


Charlie Hood is a longtime Florida state pupil transportation director and currently serves as the Executive Director of the National Association of State Directors of Pupil Transportation (NASDPTS).
Having worked in the transportation industry for 33 years, Charlie will be visiting with CSTPA Summit participants on one of the hottest topics in the industry, seatbelts.
Florida was one of the first states to introduce seat belts in school buses, be one of the first in our state to participate in this informative blockbuster session. See you at the Summit!
Class Schedules:
Course Descriptions
Ramada Plaza Hotel Northglenn / Denver North
10 E. 120th Ave.
Northglenn, CO 80233
Hotel: 303-452-4100
Direct: 720-221-2745
Group Code: CG20CO
Our group needs to request "in-house group reservations and then the code" so you are not transferred to central reservations.
The Transportation Summit schedule puts you in charge. This is by allowing you to review the sessions offered and choosing to go to what is needed for you personally. You may mix and match attending as there is not a requirement of attending all the sessions together (400 – Mtn is only exception). Below are frequently asked questions to help you prepare for this year's event.
Q. How do I register for classes? I heard the DT classes were completely changed.
Unless you are wanting to attend the 400 (mtn) or 500 (Tech) series you register only for the conference. You do not pre-select a track to follow, you decide what sessions to attend, mix and match to meet your needs. We are following the same format as last year. These classes do have a different look, however, still contain the same and more of the topics currently covered in the prior DT series. We have been diligent in reaching out to CSPTA committees, CDE, working hard to solicit feedback, reviewed workshop comments, met with industry experts and prior instructors, and have come up with a more flexible workshop platform that will meet participant's needs. Class content has been enhanced to provide all of the necessary material in a streamlined fashion. All DT classes will still have the same requirements to complete each series. We are happy to announce many portions of the DT classes will be offered year-round.
Q. Where are the DT classes? Will there be DT classes?
Yes. CSPTA recognizes the importance of all the DT series and will continue to support the DT classes. These classes have been repackaged to provide participation flexibility and clearly defined course outlines. They are still being offered however called 100 thru 400 and 800 series. Please look at the master schedule to determine which session you are interested in attending each day and each segment.
Q. Will completion of all DT classes result in a certification?
Yes. While there is not a trainer certification sanctioned by CDE, there will be the CSPTA State Association certification that participants are able to obtain.
Q. If I am currently a state-certified trainer will that be honored under the new certification?
Yes. If a certified trainer can produce evidence of having successfully completed the courses, they will be grandfathered through the CSPTA certification process.
Q. What happens if I am half way through the DT certification process?
Past participation in DT courses will be honored as sections completed so no one will lose credit for previous years completed. Note: Evidence of participation or completion will be required.
Q. Will CDE still be a part of this summer workshop?
Absolutely! While there has been a shift in the facilitation of workshop, CDE and CSPTA continue to work closely to bring the very best training to the transportation community.
Q. My job description actually states the DT classes as a requirement, will I still meet this?
Yes. The DT sessions still contain the same topics. The sessions have been updated to bring in timely topics and issues. Certificates will be on hand at the time of the class, distributed at the conclusion of the session.
Q. Will it still take seven years to go through all of the classes?
No. With this streamlined process, and year-round availability, you will be able to continue at your own pace or take an accelerated track. The choice will be yours.
Q. Is the Roadeo and Technician contests still happening?
Yes. Both committees are already working together to host the best event(s) yet! Here is information and how to register for each as both a participant and as a judge/volunteer:
We are excited to announce new events, the Colorado's Best Trainer and Colorado's Best Assistant (para, TA etc.) will be unveiled. These events will be held the afternoon of Tuesday, June 20 (this will not interfere with traditional competition). Not only are we at a facility with indoor air conditioning and bathrooms, the groups are finding every option to maximize participation, learning environments, and how to get participants through the day as quickly as possible. The awards dinner will again follow that evening.
Q. What if we are not participating in Roadeo or Technicians competitions, what is there for me on Tuesday?
Sessions are not being offered the morning of Tuesday, June 20. We encourage you to attend the competition to show support and learn. There are such learning opportunities in every area of the competition.
Have you ever judged? Volunteer to be a judge, we guarantee you will learn something new to take back. Lunch is provided to all. Afternoon round table sessions will also be offered.
Q. Will there ever be events to recognize other job specialties in the industry?
Yes. We are very excited to announce two new events. CSPTA is excited to announce events to determine Colorado's Best Trainer and Colorado's Best Assistant (para, attendant, etc.). These competitions will take place the same day as the Roadeo, however, after the contest. Check back or ask at the checkin for details.
Q. Are meals provided?
The majority of meals are provided for participants, presenters and volunteers. Refer to daily schedule for meal schedules, if there is no meal it will state "on your own."
A networking breakfast will be held on Monday, June 19. Registration is required and can be denoted here as a ticket option called "Networking Breakfast".
Q. Will there be additional information on courses and speakers?
Yes. As classes are confirmed, and events finalized, we will be sending out information on everything you need to know. Check back here and follow us on Facebook.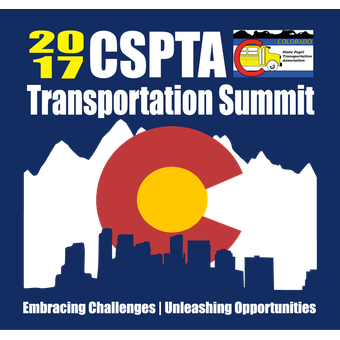 1500 E 128th Ave, Thornton, CO 80241, USA