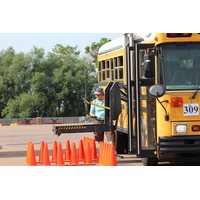 June 12, 2018 was a fun day! We had 50 conventional contestants and 15 special education teams compete in 14 scored events, plus a 50 question written test. We had some new skills never seen before, and drivers got to manage students on board as they drove the course.
Thank you to all the contestants for their patience and great attitudes. A special thank you to the 80+ volunteers who made this day go so well. There is no way this event could ever happen without you.!
Congratulations to the winners and all those who participated! See you next year.
If you have any questions or comments about the event, please contact Tom Lynch at tlynch8@cherrycreekschools.org.
---