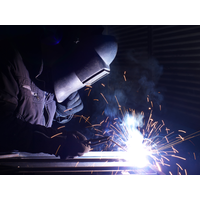 Every School Bus Technician could use professional training on welding; Most have only been instructed by other technicians. Here is your chance to learn how to properly and safely operate welding and metal working equipment.
CSPTA Presents:
Welding class taught by Glenn Ashley, Adams 12 Five Star School's Bollman Tech certified welding instructor. This course is for the beginner, intermediate and advanced welder covering welding safety, MIG, TIG, ARC, and gas welding with additional hands-on practice time. The course will also cover metal working to include Gas and plasma cutting techniques. Welding helmets and leathers will be available to borrow or the welder can bring their own. Registration fee includes Instructor fee, welding consumables, and lunch for one day.
Two 8-hour classes (same class offered twice)
Wednesday, July 26: 8 a.m. - 4:30 p.m.

Thursday, July 27: 8 a.m. - 4:30 p.m.
Register online - Class size is limited to 15 people maximum per class
Location:
Bollman Technical Education Center
Adams 12 Five Star Schools
9451 Washington St, Thornton, CO 80229
---